July 16, 2020
qathet Regional District beautifies Cemeteries with BC Hydro ReGreening Grant
qathet Regional District, B.C. – The qathet Regional District was successful in securing a BC Hydro ReGreening Grant. This year's $4,000 grant funding was used to purchase flowering trees for the 'Cemetery Beautification' project.
The trees were planted at the Powell River Regional Cemetery, accenting the entrance to the Green Burial section, and at Woodland Cemetery on Texada Island.
BC Hydro's Community ReGreening Program helps fund urban tree planting related to visual aesthetics and environmental enhancements. BC Hydro pays for seedlings, medium and large trees, and is open to all local governments and First Nations across the Province.
This is the second time the Regional District was successful in the BC Hydro Grant, the first grant in 2019 was also used to plant trees at the two cemeteries.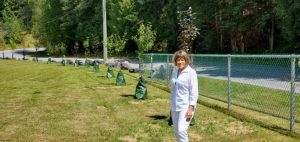 Texada Island Area D Director Sandy McCormick expressed her appreciation for the cemetery beautification enhancements, stating, "The trees are a great combination of leaf size, shape, colours, and textures. Seeing the first batch of trees bloom last spring was delightful".
For more information on our cemeteries please visit qathet.ca.
CONTACT:
Patrick Devereaux, Manager of Operational Services
qathet Regional District
#202-4765 Marine Avenue
Powell River, BC V8A 2L2
604-485-2260
www.qathet.ca                                                  ~30~