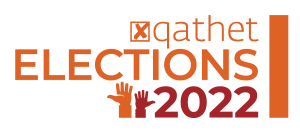 The next qathet Regional District General Election Day is Saturday, October 15, 2022
Information on candidates, nominations, voting locations and advance voting dates will be publicized closer to voting day. Election employment opportunities will be posted on the Careers webpage. Upcoming election key dates will be posted on the Events Calendar.
Candidate Nomination Packages are now available for download.
Voting in the Election
All those eligible to vote in the qathet Regional District (qRD) Electoral Area Elections must be registered. You may only register either at the time of voting on October 15, 2022, or during the advance voting opportunities. You must meet all of the criteria to be eligible to vote. Non-resident property electors are encouraged to contact the qRD prior to voting day. You will be required to make a declaration that you are eligible to vote in the election.
Resident Electors will be required to produce two (2) pieces of identification (at least one with a signature). Picture identification is not necessary. The documentation must prove both residency and identity.
Non-Resident Property Electors will be required to produce two (2) pieces of identification (at least one with a signature) to prove identity (picture identification is not necessary), proof that they are entitled to register in relation to the property (examples are tax notice, state of title certificate) and, if there is more than one owner of the property, written consent from the majority of the property owners. Voters are encouraged to have the written consent form completed and signed prior to voting day. You will be required to submit this form to vote as a non-resident property elector. Non-Resident Property Electors may not vote more than once within a voting jurisdiction regardless of the number of properties owned.
Accepted Documentation as Evidence of Identification
Classes of documents that may be accepted as evidence of identification are:
• BC Driver's Licence
• BC Identification Card
• BC Care Card
• BC Gold Care Card
• Credit Card
• Debit Card
• Canadian Passport
• Property Tax Notice
• Certificate of Canadian Citizenship
• Government Issued Military Identification Card
• Firearms Possession and Acquisition Licence
• Certificate of Indian Status
• Current Utility Bill – Containing Elector's Name and Address
• Owners Certificate of Insurance and Vehicle Licence (issued by ICBC)
• Other documents sufficient to satisfy the Chief Election Officer
Note: A Combination BC Services Card and BC Driver's Licence only counts as one document.
Running for Office
Electoral Area Directors need to be interested in the current affairs and future of both their area and also the region as a whole.
Candidates must be Canadian citizens who have resided in BC for at least six months prior to nomination.
Candidates must be nominated by two qualified electors who live or own property in the electoral area that the candidate is being nominated to represent. At the time of filing a nomination, candidates must also complete a financial disclosure form.
If elected, candidates should expect to prepare for and attend approximately four Board and Standing Committee meetings per month, and also be available to their constituents.
Directors will serve a four year term from November 2022 to November 2026.

Additional Resources (Links are External):
If you have questions regarding campaign financing, please contact Elections BC:
Toll-free phone: 1-800-661-8683
email: electoral.finance@elections.bc.ca
Website: elections.bc.ca/local-elections/2022-general-local-elections/
Nomination Packages
In accordance with Section 85 of the Local Government Act, the qRD has provided public notice for the Notice of Nomination Period for the Electoral Areas and Islands Trust (Lasqueti Island):

Nomination Packages are Available for Download Here:

Completed nomination packages can only be accepted by the Chief Election Officer or Deputy Election Officers at qRD office between 9:00 am, Tuesday, August 30, 2022 and 4:00 pm Friday, September 9, 2022.

Nomination documents may be delivered by hand, by mail or by other delivery service, or by fax or email, with originals to follow. If the originals of nomination documents delivered by fax or email are not received by the chief election officer before the end of the twenty-ninth day before general voting day, the person nominated is deemed to have withdrawn from being a candidate in the election.

The qRD office is open Monday through Friday, excluding Statutory Holidays, from 8:30 am to 4:30 pm. Note that the Regional District office is closed for lunch between 12 pm and 1 pm.
Nomination Process
A candidate must be nominated, in writing, by two people who are electors in the jurisdiction for which the person is being nominated.

Nomination information must include:
• the full name of the person nominated
• the usual name of the person nominated, if preferred
• the office for which the person is nominated
• endorsement by an elector organization, if applicable
• the residential address of the person nominated
• the names and residential addresses of the nominators
• a statement signed by the nominators that the person is qualified
Please note: no nomination deposit is required by the qathet Regional District.

Who may be nominated
You may run for local government office if you:
• are a Canadian citizen
• are at least 18 years old on election day
• have lived in BC for at least the last six months
• have not been disqualified for voting or from being nominated in a BC local government election

You do not qualify as a candidate if you:
• are a judge of the Provincial Court, Supreme Court or Court of Appeal
• are an employee or salaried officer of the local government (unless you have taken a leave of absence to run for office and agree to resign if elected)
• are under sentence for an indictable offence and are in custody or in prison, have been found guilty of an elections offence, such as double voting or buying votes, and are prohibited from holding office
• are disqualified for not filing a disclosure statement in a previous election or for not making an oath of office or attending meetings
Contact Us
Need more information? Want to receive election updates directly to your email?

Contact Chief Election Officer, Michelle Jones at vote@qathet.ca or call 604-485-2260.