Sustainable Service Delivery
qathet Regional District provides a wide range of services to the residents and visitors of our region. The range of services offered is vast, from fire protection, to parks and campgrounds, to docks and barge landing sites, to cemeteries, to solid waste management and many more. The land, land improvements, marine facilities, sanitary and water systems, buildings and structures, vehicles, and machinery and equipment (collectively called "assets") used to provide these services must all be operated, maintained, replaced and disposed of appropriately in order to ensure sustainable service delivery, to adhere to regulatory requirements, and to meet the needs and expectations of our citizens.
In the Regional District's 2015-2019 Strategic Plan, the Board of Directors listed Asset Management as a Strategic Priority stating that, "We believe that proper and complete asset management improves our ability to serve the common good".
qathet Regional District's work in the area of Asset Management has been featured in the August 2020 edition of PR Living (Page 26) and in the Winter 2020 (Page 6) and Fall 2020 (Page 17) editions of Asset Management BC's newsletter.
Why Invest in Asset Management?
qathet Regional District's Asset Management Program
Next steps to be taken in our Asset Management Program
Asset Management is an integrated approach involving planning, finance, engineering, operations and emergency services to effectively manage existing and new assets to maximize benefits, reduce risk and provide satisfactory levels of service to community users in a socially, environmentally, economically and culturally sustainable manner.
The Union of British Columbia Municipalities in partnership with Asset Management BC developed a BC Framework to support local governments in moving toward service, asset and financial sustainability through an asset management approach. This approach is represented graphically below.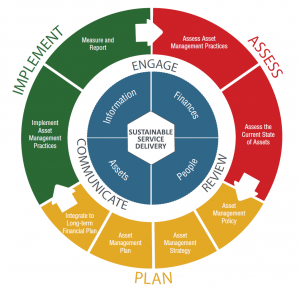 The Regional District's Asset Management and Strategic Initiatives department is developing qathet's Asset Management Program. The Board of Directors adopted the Regional District's Asset Management Policy in April of 2019 which defines the guiding principles for the development and integration of the program and delineates the roles and responsibilities for the delivery of the program. In June of 2019, the Board adopted the 2019-2021 Asset Management Strategy. The strategy sets a number of objectives for the program. It identifies four specific goals to be accomplished and the action items required to achieve the goals.
Development of an Asset Management Toolkit: In order to deliver a systematic, sustainable and measurable asset management program, Regional District staff across all departments must have access to a common set of tools. The Asset Management Toolkit will include approved procedures, practices, checklists, forms and templates. The toolkit will be a living document that evolves and expands as the asset management program matures.
Building and Maintenance of an Asset Registry: Fundamental to any asset management program is an accurate and comprehensive database containing all of the essential characteristics for each Regional District asset. Beyond simply building the asset registry, processes, practices and standards for data collection and data maintenance must be established.
Integration of Asset Management Across the Organization: To support asset management and to ensure the sustainability of the Regional District's asset management program, good asset management practices must become part of the culture of the organization, from governance to management to operations.
Development of Individual Service Asset Management Plans: Having a comprehensive and actionable plan for the sustainable delivery of each Regional District service is the ultimate goal of the Regional District's asset management program. These plans will provide detailed information about the infrastructure required to provide an agreed level of service in the most cost effective manner while outlining associated risks and consequences.