Savary Island Volunteer Fire Department
For emergencies call 9-1-1.
The Savary Island Volunteer Fire Department provides firefighting and medical first responder service across all of Savary Island. The fire halls are staffed on a volunteer basis. For volunteering inquiries, please contact the qRD main office at 604-485-2260.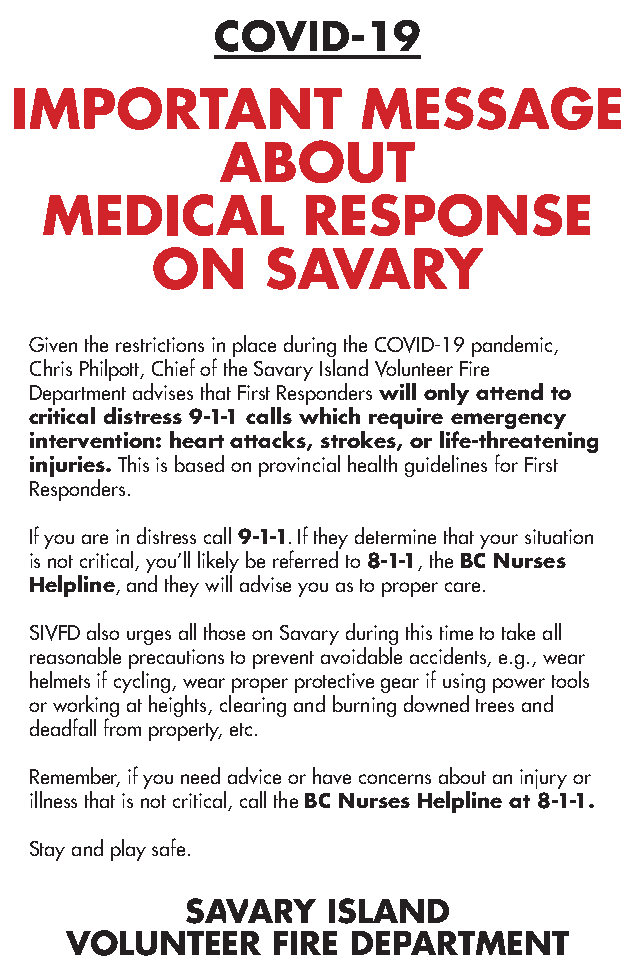 Service Area
Department Officers
Fire Chief: Chris Philpott
Contact
Main Fire Hall Location: 1847 Savary Island Road
Mailing Address: PO Box 79, Lund, BC V0N 2G0
Email the Fire Chief: sivfdchief@qathet.ca
Outdoor Fire Regulations
Outdoor fires, including campfires and burn piles, are regulated by the Savary Island Outdoor Fire Control Bylaw No. 549.
Campfires are prohibited everywhere on Savary during the months of July, August, and September.
Burn piles are prohibited during the months of June, July, August, and September.
The Fire Chief may extend burning prohibition times and/or restrict hazardous activities that could cause a fire should the conditions warrant such measures.
Fires should never take place during windy conditions because flying sparks and embers could ignite adjacent combustibles.
Before lighting a fire always check the wind forecast. If you see suspicious smoke or flames, call 9-1-1.
Savary Island Fire Insurance Grading Information
In 2017, through dedication and training in the SIVFD, volunteers were able to achieve improved insurance grading for all properties on Savary Island.
Have a Fire Extinguisher Handy
In the event of a fire, time is critical. A fire extinguisher can deal with many small fire incidents before they become big ones. Know where your fire extinguisher is and ensure that it is in working condition.