Savary Island Volunteer Fire Department
FOR EMERGENCIES CALL 9-1-1
The Savary Island Volunteer Fire Department provides firefighting and medical first responder service across all of Savary Island. The fire halls are staffed on a volunteer basis. For volunteering opportunities, please contact the qRD main office at 604-485-2260.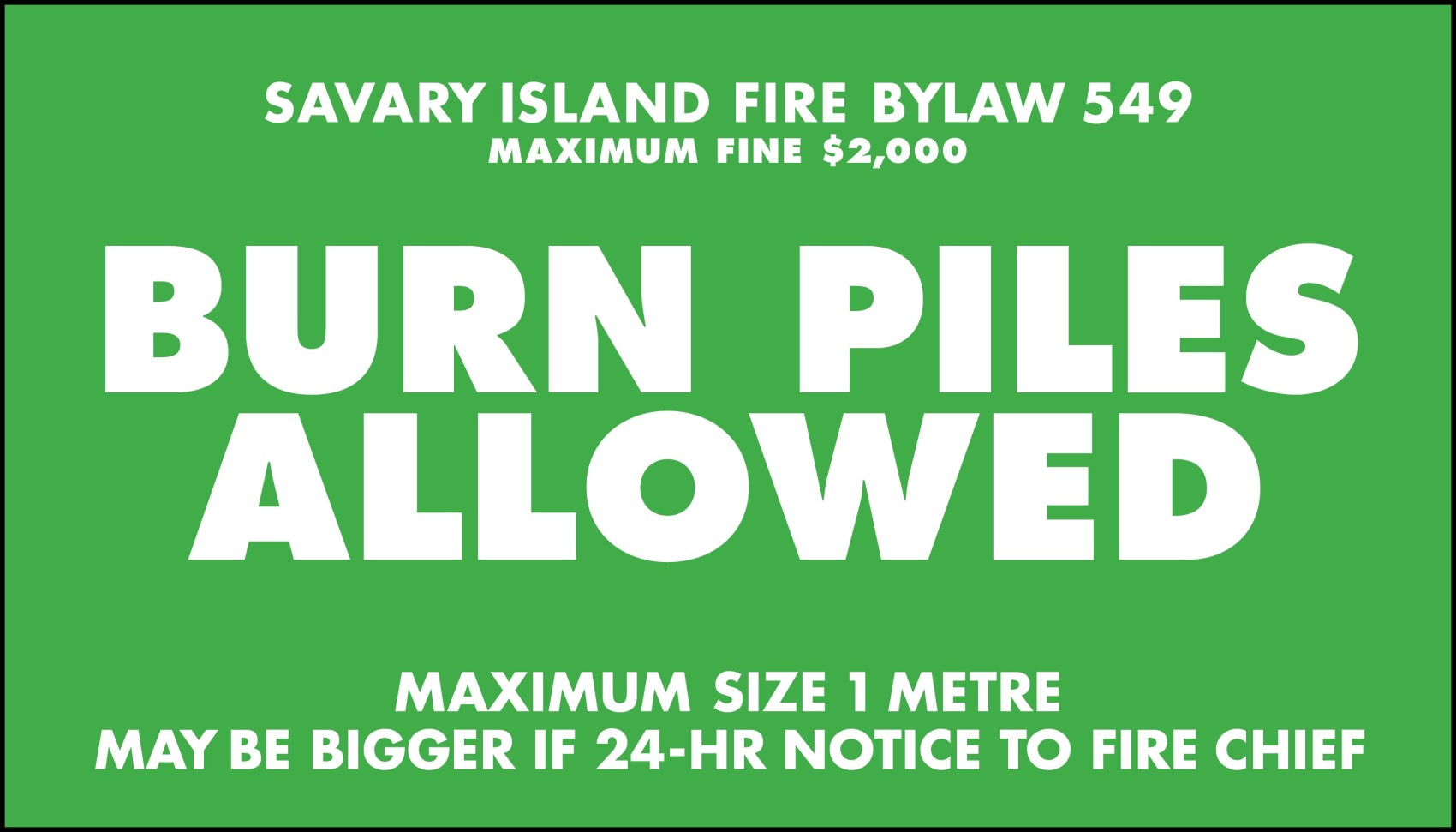 BURN PILES ALLOWED with size restrictions
Effective NOON Tuesday October 17, 2023
A 1 metre x 1 metre fire is easier to control, and as long as you have a good base of hot embers, this size of fire is big enough to handle all the yard debris you need to burn.
Every person who intends to construct and ignite a burn pile of material that is larger than 1 metre in diameter and 1 metre in height must notify the Fire Chief at least 24 hours ahead of igniting the burn pile. SIVFD Fire Chief 604-414-9495.
No person shall construct or ignite a burn pile where the material is larger than 3 metres in diameter and 2 metres in height.
Before lighting a fire always check the wind forecast. If you see sparks and flames going sideways towards combustibles you must extinguish the fire immediately. Do not leave the fire unattended. Remember to have a sufficient supply of water or other substance close at hand that could extinguish the fire.
BC's guide to properly Burning Outdoors: Never burn garbage or construction debris. It is illegal unless specifically authorized, and it releases toxic chemicals into the air. Effects of these toxins include cancer, lowered immunity, disorders of the nervous system, and interfere with childhood development. www2.gov.bc.ca/gov/content/environment/air-land-water/air/air-pollution/smoke-burning/burning-outdoors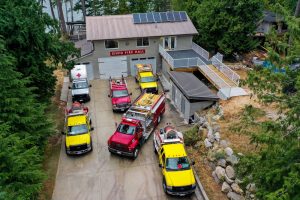 Service Area
Department Officers
Fire Chief: Chris Philpott
Contact
Main Fire Hall Location: 1847 Savary Island Road, Savary Island, BC
Fire Hall 2 East Location: 2856 Vancouver Blvd, Savary Island, BC
Fire Hall 3 West Location: 1134 Vancouver Blvd, Savary Island, BC
Mailing Address: PO Box 79, Lund, BC V0N 2G0
Email the Fire Chief: sivfdchief@qathet.ca
Outdoor Fire Regulations
Outdoor fires, including campfires and burn piles, are regulated by the Savary Island Outdoor Fire Control Bylaw No. 549.
Savary Island Fire Insurance Grading Information
In 2017, through dedication and training in the SIVFD, volunteers were able to achieve improved insurance grading for all properties on Savary Island.
Have a Fire Extinguisher Handy!
In the event of a fire, time is critical. A fire extinguisher can deal with many small fire incidents before they become big ones. Know where your fire extinguisher is and ensure that it is in working condition.